Making the choice of staying at a bed & breakfast in Colorado Springs is the perfect choice of accommodations when you require a relaxing getaway. You can locate beautiful Bed and Breakfasts almost everywhere you go, and you get so much more than your regular hotel.  From personal attention to home-cooked meals, there are lots of factors to choose a b&b over all the hotel options. 
Value At A Colorado Springs B&B

You get so much more value when you stay at a Bed and Breakfast compared to a hotel.  At the hotel, you will get a room, probably on the small side that is just like every other room.   Most hotels now charge for parking, charge for breakfast and charge for a lot of miscellaneous amenities.
A historical, well-managed Bed and Breakfast like St. Mary Inn, you will get a unique, comfortable suite with many free extras.    Quality B&B's provide individual suites with private bathrooms and the luxuries you have at home.  One of the very best advantages of a B&B are the daily gourmet breakfasts.  Some B&B's are well connected with local attractions and activities, which you can get discounts and information on the activities around town.
B&B's Offer Unique Rooms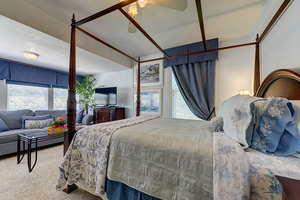 A Bed and Breakfast is unique in that each suite has its own design and personality.  Each suite is decorated differently and each suite has its own feel.  Most B&B's offer groups stays, which offers you the opportunity to check out everyone's suite and do a fun comparison.  One big advantage is that you can reserve a specific suite of your choice, instead of just getting assigned a room in a hotel.
The B&B House History

Most Bed and Breakfast accommodations have a history that is unique to the city.  The St Mary's Inn Bed and Breakfast, for example, was a Colorado Springs North End turn of the century Victorian Mansion which has been comforting its occupants since 1896.  A lot of B&B s have stories and rich history.  Make sure to ask the innkeeper concerning the history and background of their B&B.
Personal Attention At A Bed And Breakfast
Have you ever stayed at a hotel, didn't talk to anyone and just did your own thing?  This doesn't happen when you stay at a Bed and Breakfast in Colorado Springs.   The B&B employees strive to go above and beyond to ensure you feel welcome and at home.  They are there to answer any questions and give guidance to special events and activities around town.  B&B owners are there for the guests to offer their local expertise and love to give their insight on what to see, do and eat within town.
The Little Extras Of A B&B
A big advantage of staying at a local Bed and Breakfast is that they go out of their way to provide their guests with all the little extras that hotels typically don't provide.  Some provide warm cookies or snacks throughout the day, while others provide wine or happy hour in the evenings.  Some B&B's provide nightly activities or books so you can curl up with your loved one in your room reading next to the fire.  
Every bed and breakfast is special and unique.  When your traveling, why stay at a regular hotel when you can stay somewhere with history, provide you with personal attention and make you feel at home. 
To see more about The St Mary's Inn Bed and Breakfast, see the Inn's History.