Rooms & Rates at the St. Mary's Inn
The St. Mary's Residence offers newly renovated rooms with luxurious bedding and clean private baths. The rooms also offer sitting areas, a refrigerator, hairdryer, cable TV, high-speed wired or wireless internet, iron and board, ceiling fan(s), individual air conditioning and heating and much more. Select individual suits under the Suites menu above for room details and rates.
Check In
Between 4 pm to 6 pm (for an early or late arrival, please make special arrangement(s). This enables us to better plan and assures that we are there to personally welcome and greet you.)
Check Out
11:00 am (With provision for luggage holding should your departure be later in the day.)
Breakfast
Seating at 8:00 AM in the dining room on the main level.
Other Important Information
Rooms are individually priced depending on which room you choose.
Adults Only (16yrs +)
Sorry No Pets
All rooms have individual heating and air conditioning
Rates are for double occupancy and do not include sales (8.25%) and lodging tax (2%) for a total of 10.25%
Rates are subject to change
For the health and safety of our guests, St. Mary's Residence is a non-smoking facility.
The St. Mary's Inn offers a private parking lot, subject to availability. The private lot is entered off of Willamette Street, to the rear of the inn. Free on-street parking is also available. ​​
Cancellation Policy
Reservations/Bookings are non refundable. At the sole discretion of the Innkeeper, the Innkeeper can issue a House Gift Certificate valid for 1 year in the amount paid to the Innkeeper. This is minus the internet fees for credit card processing and commissions paid.

The Cherrywood Suite features a plush and elegant queen size bed,  a writing desk with chair, with an adjoining private, granite tiled bathroom with double sinks and a jetted Jacuzzi whirlpool tub/shower.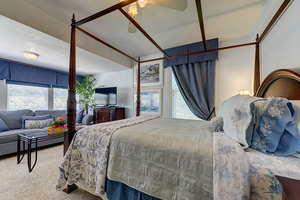 The Cypress Suite is a sunny cheery room with white & blue decor with a queen size 4 poster bed and lots of windows with views. It includes a granite tiled bath with dual vanities and a jetted Jacuzzi whirlpool tub.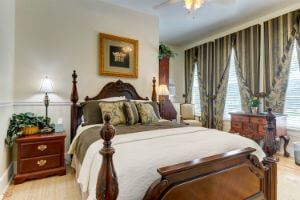 The Ironwood Suite is a two bedroom suite with a King size poster bed, leather chair, and a large flat screen TV.  The Ironwood Suite is located at the top of the turret with circular windows. There is an adjoining sitting room with leather love seat and mini refrigerator and working desk.
The second bedroom with the Ironwood suite includes a queen size bed, with a writing desk for your convenience. This suite also includes a mini fridge and flat screen TV. This suite shares a private bathroom with the adjoining King Suite off a private hallway.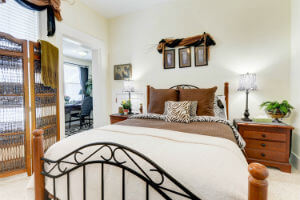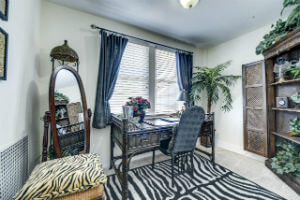 The Sycamore suite is a unique safari style suite with a queen size bed. We have free Wi-Fi throughout the premises. This suite also includes a mini fridge and flat screen TV. This would be an excellent corporate suite for a business traveler. 
The Sycamore Suite includes a separate office with a large writing desk, safari style with blue accents and an adjoining private bathroom.

The Driftwood Suite is cozy & bright with views of Downtown Colorado Springs and the Mountains, featuring a Queen size bed and a private adjoining, granite tiled bathroom and shower. Lots of closet space if you decide to stay for a while. The Driftwood Suite is set on the top floor with spectacular views. This suite includes flat screen TV.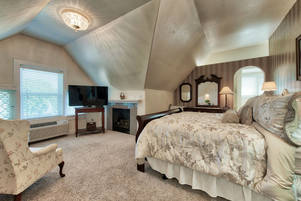 The Rosewood Suite features a king size bed, fireplace and a separate sitting area. This Suite truly delivers with a spa-style bathroom accented by a 2 person jetted hot tub, an over-sized walk-in shower, large windows and sky lights for that airy feeling throughout.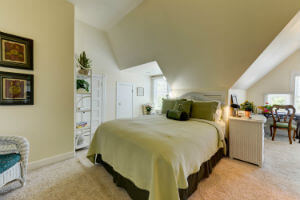 The Magnolia Suite is a serene suite featuring a queen size bed, flat screen TV and has an adjoining sitting area. The suite is located on the top floor with beautiful views of downtown and Cheyenne Mountain/NORAD. The bathroom includes a granite tiled shower.

The Acacia Suite has been tagged "The Rancher" by many loyal guests.  This spacious suite is conveniently located on the main level and is the perfect suite choice for those guests who prefer being on the main level and close to the action.

The Willowood Executive Suite provides a king size bed and is located on the ground level in the newly renovated Carriage House, just steps away from the Inn.  The Willowood offers a kitchenette, a sitting area, a bistro table and stools and an over-sized full bath.
Colorado Springs Bed and Breadkfast Rooms and Rates