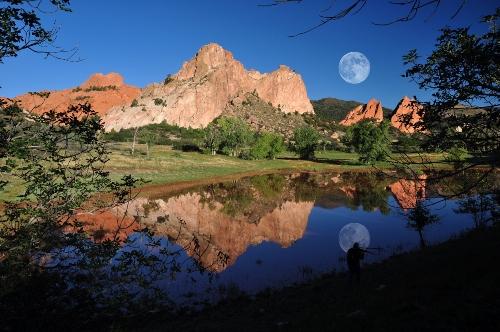 This year has gone by quickly and we are already in the warm months of June here in Colorado Spring.  This opens a variety of outdoor activities that allow us to enjoy the outdoors and all this city has to offer. From hiking, yoga, marathons, and more! Colorado Springs has activities to will spur your appetite for adventure!
Yoga & Hike Garden of the Gods
Description: Join us for a peaceful and accessible hike through the Garden, leading to an undisclosed location in the park where we'll roll out our mats, and match breath and movement among the Gods.
When: Mon, Jun 17, 6 – 8 PM
Where: Garden of the Gods Park- 1972 N 30th St, Colorado Springs, Co
Link: https://www.eventbrite.com/e/yoga-hike-garden-of-the-gods-tickets-62170058318
Garden of the Gods 10 Mile / 10K Run
Description: The Garden of the Gods Ten Mile and 10k has always had it all — a spectacular setting, a physically demanding course, competition in almost every age-group, excellent runner support, unique awards and great shirts. Simply, this is one of the most beautiful and challenging road race venues anywhere! The course will loop you through the incredible Garden of the Gods Park which lies between Manitou Springs and Colorado Springs. The course elevation ranges from 6,210′ up to 6,530′ and back down and up and down and over and around all over again. The race is run primarily on asphalt roads, with the exception of a 3/4 mile section run on the breathtaking concrete walk-way system (far wider than a simple sidewalk) that winds its way through the heart of the Garden's most amazing rock formations. Indeed, the formations are so amazing they bring visitors from around the world!
When: Sunday Jun 9th 7-9:30 AM
Where: Garden of the Gods Park- 1972 N 30th St, Colorado Springs, Co
Link: https://runsignup.com/Race/CO/ColoradoSprings/GardenoftheGods10Mile10KRun
Full Moon Run
Description: A run for the full moon, followed by a tailgate gathering. Groups will be formed to run various distances (usually 2 to 5 miles) and then stay after the run for a tailgate (bring whatever you would like to share). A headlamp or flashlight may be needed depending on the time of year and length of the run. This is a social group run, and not a competitive race. All ability levels are welcome, both walkers and runners.
When: Monday, Jun 17, 2019 at 7:00pm
Where: Red Rock Canyon Open Space 3550 West High Street Colorado Springs, CO 80904
Link: https://stepoutside.org/event/full-moon-run-2019-06-17-colorado-springs-co.html
Gallop In The Garden
Description: Join us EVERY Thursday between 4:00pm – 6:00pm for the Gallop in the Garden 5K Fun Run! Meet in the lower lobby of the Garden of the Gods Visitor & Nature Center at 1805 N. 30th St., Colorado Springs, CO. We've mapped out 5 phenomenal routes through Garden of the Gods Park and Rock Ledge Ranch that start and end at the Visitor & Nature Center. (3 routes are available every)
When: June 27 @ 4:00 pm – 6:00 pm
Where: Garden of the Gods Visitor and Nature Center
Link: https://www.gardenofgods.com/things-to-do/things-1/5k-fun-run
Whenever adventure brings you to Colorado Springs always book your stay with the St. Mary's Bed and Breakfast. We would love to help you have a cozy place to stay while you explore our beautiful city. Call (719) 540-2222 to book your stay with us today!